Franck Muller Grand Central Tourbillon in 36mm Cintrée Curvex CX
Franck Muller Grand Central Tourbillon in 36mm Cintrée Curvex CX
Franck Muller has long been regarded as the Master of Tourbillons. From the most compact, to the fastest, and even the largest on a wristwatch, the watchmaker has set records and new standards for the tourbillon.
The Grand Central Tourbillon is its latest take on this classic device.
It sets the tourbillon at the heart of the newly updated, tonneau-shaped Cintrée Curvex CX case. To create these new references, the technical and artistic teams at Franck Muller worked in tandem to design a display that would integrate the movement perfectly.
A Little Different
In order to achieve a sophisticated, legible display, the movement of the Grand Central Tourbillon is fitted to the curved case middle.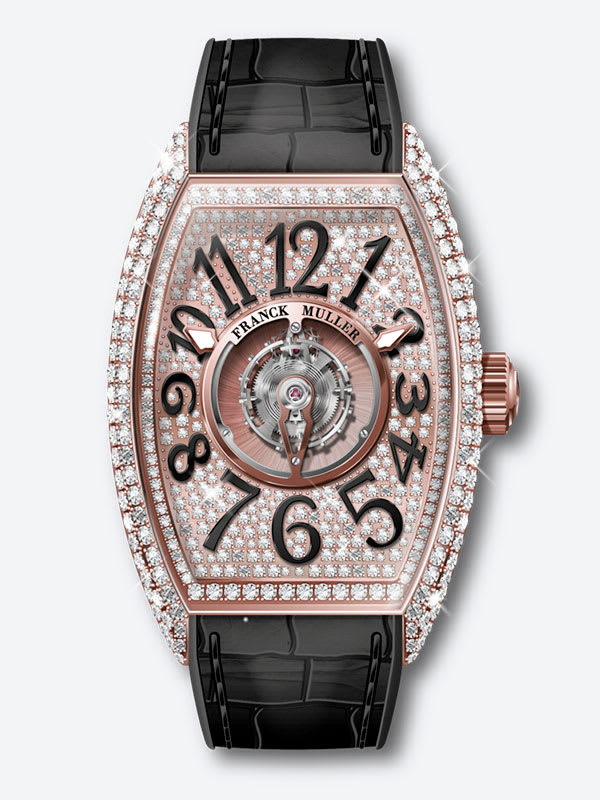 With a single bridge supporting the tourbillon and elevating it above the dial, the openworked discs that display time are stacked around the rotating carriage of the tourbillon. This "invisible" display of time is not only ingenious, but requires a complete redesign of the gear train.
Once our engineers at Watchland had perfected the design of this unique tourbillon movement, we challenged ourselves to transform its physical footprint further to develop new versions of the Grand Central Tourbillon, with the same robust performance and bold aesthetics of the original. At WPHH 2022, Franck Muller introduces a new variation of the Grand Central Tourbillon, in a 36mm Cintrée Curvex CX case that's suited for both ladies and gentlemen.
The Grand Central Tourbillon Cintrée Curvex CX 36 comes in eight references, including three diamond-set models and five non- jewelled versions.
They are equipped with the self-winding FM CX 36T-CTR, powered by a sunray-brushed eccentric gold micro-rotor that provides 4 days of reserve power and a large central tourbillon running at a leisurely 18,000 vph.
New Cases and Dials
The instantly recognisable Cintrée Curvex case has long been synonymous with Franck Muller for nearly three decades, capturing the hearts and minds of aficionados and admirers alike. This year, the iconic Cintrée Curvex case has been remarkably redesigned.
An edge-to-edge, curved sapphire crystal extends fully across the display to the lugs for improved visibility. This is possible thanks to a newly perfected technique of fixing the glass at 12 o'clock and 6 o'clock, creating a bigger display through which the Grand Central Tourbillon can now be admired. Furthermore, the Cintrée Curvex CX's bezel is separate from its case, allowing for beautiful two-tone treatments and highlighting the sensuous curves of the watch.
The new Grand Central Tourbillon models all possess a stamped guilloché dial with a Clous de Paris pattern in different colours. The Grand Central Tourbillon CX 36 is available in white and rose gold, and carbon cases, as well as diamond-set models on the outer and inner bezels; all with oversized, applied hour markers, and galvanised guilloché dials coated with 20 layers of translucent lacquer to create a glistening, hypnotic display.